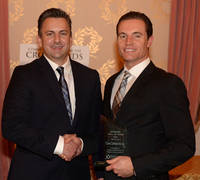 Bo Pratt, Chair of the BCDA Board, congratulates Clifton Clark on the occasion of his company's induction into the Bedford County Chamber's Business Hall of Fame.
Since 1951 Clark Contractors, Inc. has performed commercial and industrial work for a wide range of clients throughout the central/western PA and northern Maryland area.  As a family-owned business for three generations, the company has built a reputation on quality, job planning, organization, technical knowledge and hard work.
Special Thanks to Clark Contractors, Inc. for underwriting the Winter BCBroadcast.