Bedford County is located in the foothills of the pristine Southern Allegheny Mountains within a 500-mile radius of more than 40 percent of the nation's population, less than three hours from Baltimore, Washington, Pittsburgh and Philadelphia. The county has an exceptional transportation network with more Interstate Highway miles than any other county in Central Pennsylvania.
Bedford County Development Association Location
Bedford County Development Association's office is in Business Park I, Hess Business Center, ONE Corporate Drive, Suite 101, Bedford, PA.
Bedford County lies at the very hub of transportation routes of the Mid Atlantic states – 98 miles from Pittsburgh, 148 from Baltimore and Washington and 200 from Philadelphia.  At the crossroads of the Pennsylvania Turnpike, Interstates 70 & 99 and U.S. Routes 220 and 30, it is within easy reach of other major concentrations of industry and population.
Bedford County Airport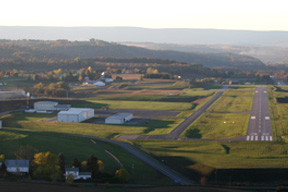 Connecting Bedford County to the world, and the world to our workforce.
When it comes to transportation links, no region is more connected to the world than Bedford County.
Located conveniently next to the Bedford County Business Park, and a short distance from Interstate 99 and the Pennsylvania Turnpike, Bedford County Airport is a window in the sky for business people who need access to the world.
With its 5,005 foot runway, the Bedford County Airport has the infrastructure in place to welcome the future of aviation with open arms.
While the facility does not have regularly scheduled commercial flights, it is a hub of activity, providing service for more than 10,000 flight operations each year.  In fact, it is one of the top business airports in the entire mid Atlantic region.
Commuter flights from the Pittsburgh International Airport and Washington Dulles International Airport are available at the Altoona-Blair County Airport and the Johnstown-Cambria County Airport, both an easy 30 minute drive from Bedford.
Bedford County Airport offers general aviation services that will meet the needs of large corporations and small businesses alike.  Approximately 85 percent of all work done at the airport is generated by business and industry.
On site at the airport is the fixed base operator Bun Air, a top performer in aircraft maintenance, flight training, and aircraft sales.  It offers the only twin engine repair facilities in three states.
 I-99 Innovation Corridor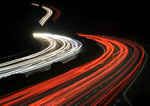 The I-99 Innovation Corridor connects Central Pennsylvania to two major east-west interstates, I-76 and I-80, offering easy access to major metropolitan centers in the Mid-Atlantic, Central and Northeast regions. This 90-mile corridor is a thriving business resource center providing financing, university research support, workforce development services, cutting-edge technology, business park management and a progressive quality of life.
Home to Penn State University and numerous technology companies, advanced manufacturers, software developers and warehousing/distribution companies, the I-99 Innovation Corridor is a leader in education and research.  Combined with the infrastructure assets in Bedford, Blair, and Centre counties, the I-99 Innovation Corridor is a premier location for business development.
The I-99 Innovation Corridor is experiencing significant growth in the following industries:  Advanced Fabrication/Manufactures, Agri-Business, Bio-Technology, Distribution and Warehousing, Food Processing, Life Sciences, Higher Education and Training, Nanotechnology Research and Development, Paper Products and Publication, and Software Development.